A Woman's Travels
---
The many roads of love,
the good, the bad and the ugly.
POWERFUL.
---
Innamorata is a story of emotional struggle, embracing hardships, relentless perseverance, empowerment, being true to and believing in oneself and finding lessons in life in the least expected places. It's a roller coaster ride of emotions,
but an inspirational and optimistic journey that confronts many issues women have faced for years, and yet the dialogue continues.
Innamorata, a heartfelt collection of the many roads of love a woman travels on throughout her life.
---
Head versus Heart.
---
Finding lessons in life in the least expected places.
Let's face it, love and relationships are among the hardest things we deal with.
Innamorata highlights valuable life lessons learned by a limited, unworldly, but determined young girl as we follow her journey to a more enriched life. We share her relationships and how they propelled her to keep going forward, as well as channeling their outcomes to a progressive road of personal and professional success.
Contessa's work of fiction does not shy away from painful aspects of romance and offers hopeful, honest accounts of love.
---
"Nobody else is responsible for our life,
our happiness;
it's completely up to us."
---
Contessa, a retired business woman whose career experience has contributed to writing and publishing marketing, networking, self-improvement and inspirational articles, has completed her new book titled "Innamorata" which has been summed up in one word: POWERFUL!
Contessa tells her story with an equal amount of sass, brass, heartbreak and humor in a can't put it down roller coaster ride of a influential read. Read more about
the journey of writing Innamorata.
---
As one reviewer says, "Contessa is a BOSS!" Read the review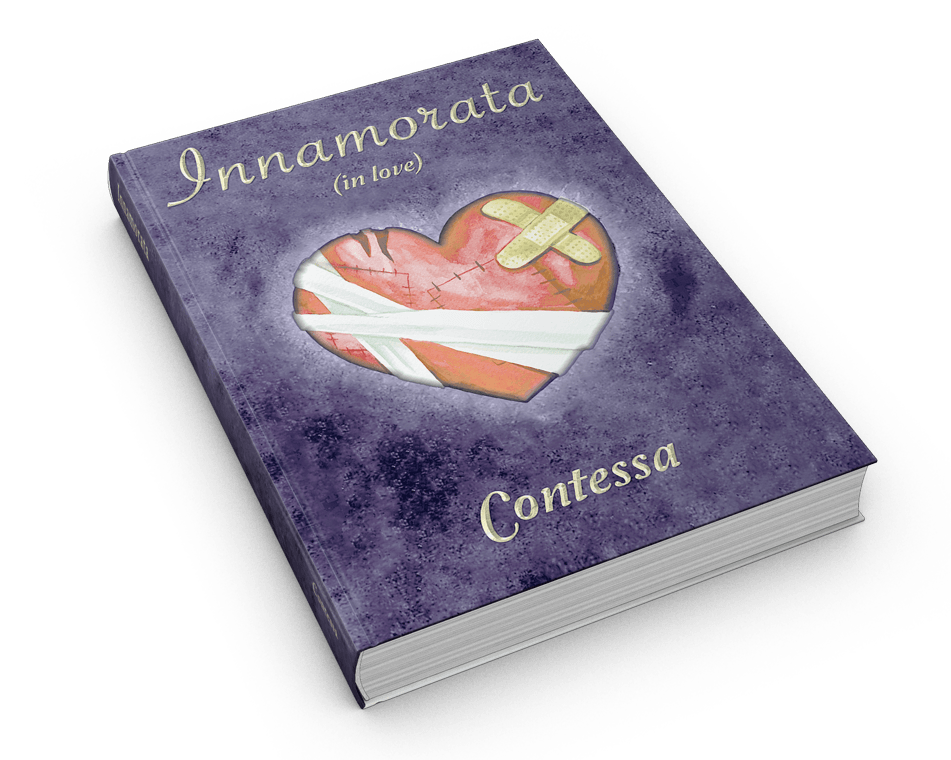 ---
Hardcover
ISBN-10: 164544094X
ISBN-13: 978-1645440949
Paperback
ISBN-10: 1643509179
ISBN-13: 978-1643509174
Reviews
Why readers
love it
"Plucky and adaptable, Contessa is clearly the mastermind of her own success..."
The cover of Contessa's memoir gives little away, and so, a reader who stumbles upon this unassuming volume begins with a blank slate. What unfolds, slowly at first, is an account of Contessa's life as she recalls it, hardscrabble and often trying, full of questionable men and sassy comebacks, but with plenty of warmth and joy, too. It is sometimes difficult to fully believe the tales Contessa tells, which are just a touch too scripted, but the reader is willing to suspend disbelief, rooting for her to come out on top, to persevere when she's dealt a bad hand. Though by no means a step-by-step guide to life, Contessa's story is saucy and engaging, her knowing voice asking readers to settle in for an amusing ride.
Plucky and adaptable, Contessa is clearly the mastermind of her own success – this message ultimately shines through – but it is sometimes obscured by the centering of relationships with men as a means through which to recount her life. In her stories, Contessa is a woman who is held back by no man and has no problem showing him the door when he's out of line. Yet, in her memoir, we are left wanting more about Contessa and less about the bad behavior of men.
A gem in the rough, this memoir feels like both a victory lap and a beginning, a hat tip to a life full of growth and intention, with plenty more to go.
This book is so fun and juicy. I could not put it down. Contessa has had experiences in her life that some people could only dream of and also never recover from. She inspires me. She is such a hard-worker and independent women. She has a loving and selfless mom. She says is how it is. She is smart. I highly recommend this book....so much drama in one life, yet she has come out on top!
---